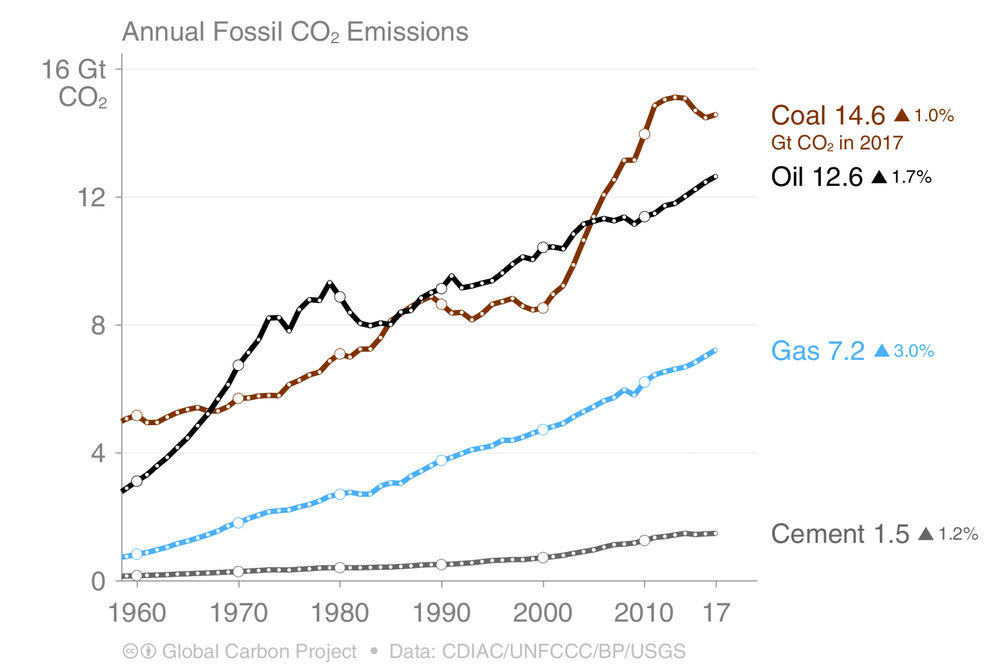 The Global Carbon Project, which collects and analyses our global carbon behaviour, shows that nearly everybody is misbehaving.
Growth in global carbon emissions in 2018 looks to be around 2%, which is exactly tied to the rate of economic growth (by GDP)
Growth in Gas was the worst at 3.0%, and almost certainly involves a growth in total methane leakage. It is not provable that the rise in global carbon emissions with GDP has produced a similar rise in global well-being.
New record high of carbon dioxide emissions of 37 billion tonnes for 2018, says we are going to fail very badly.

Humanity are still trying to collectively have infinite growth on this finite planet. Here in Australia, our Prime Madman Scott Morrison, keeps defiantly shouting his "Strong Economy" slogan, in the tones of "Resistance is useless", while Australia burns hotter. After Albert Einstein, we could say that only one thing is infinite, and that is human collective stupidity.

Absent any serious form of global self-control, human global demolition will be future choked by several possible natural "Limits to Growth". Given our massed social and technical ingenuity, we might even manage to have several at once. We might escape the global decline in essential heavy fuel oil supply to power our global big machines, or spend all our energies against the inexorable rise in new climate disasters. This is probably already out of our control, as we struggle to keep creating new limits by growing our ongoing demolition of biodiversity and natural sustainability.