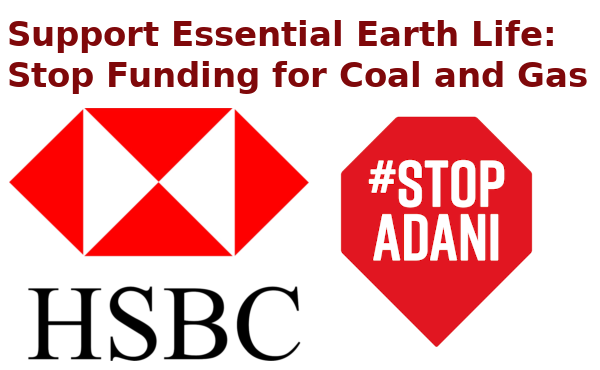 #StopAdani actions are targeting big financials that are still providing funds for this abhorrent life killing project of the Adani Group. No coal mined yet, but the Adani Group is still setting up to rip the life and water out of the Galilee Basin in Queensland. In the process of digging up the coal, to send it an incredibly long way to India, and help ruin life in both nations. The Australian government has let the common people of both nations down very badly. The big bank financials in Australia that are to be the target of upcoming life supporting actions include the HSBC group, which conveniently has branches in Sydney.
Many actions across Sydney are going to be done by various formal and semi-formal community groups. I shall call them "Essential Earth Life Supporters" - EELS, for want of a better umbrella term, not used by any of them. These are not the Parramatta football team. EELS here refers to any group that preferences the rights of Earth's bio-systems and creatures, and oppose destruction by the desires of the wealthy for infinite growth of their global industrial civilization.
Some local event registration links on #StopAdani site are as below.
COVID Masks are essential fashion for safety, although most of the time nearly everyone will be outside. These will be during business as usual hours. See links for details